It's easy to forget the importance of how the environment plays a role when 3D scanning. Most 3D scanning projects aren't done in controlled lab environments. Where you set up to conduct your 3D scanning directly affects your 3D scanning results. Here are some ways to improve your 3D scanning environment to get better results:
Use a Black Background as a Back Drop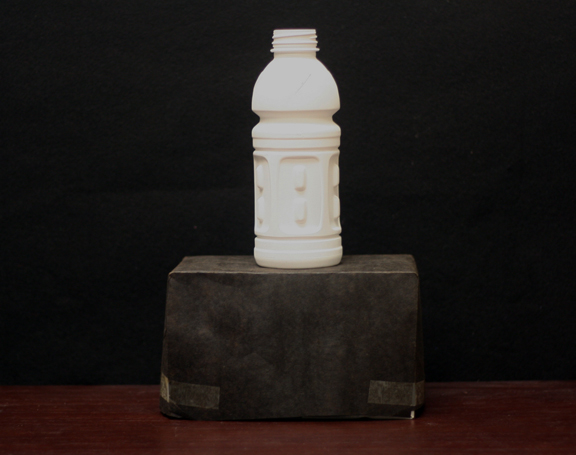 When scanning an object it is best to minimize outside noise and extraneous data as much as possible to ensure the 3D scanner only captures the data you need. Use a dark back drop so the 3D scanner is capable of viewing only the object. We found that tacking up a black felt cloth on the wall works very well. Using a black foam board and leaning it against the wall also works.
PHOTO: We tacked a black felt on the wall. We also covered a box with black paper to prop it up for 3D scanning.
Conduct 3D Scanning on Stable Floors
Most floors are actually unstable unless you are on the ground floor made of concrete. Make sure you are not 3D scanning on a highly traffic area as the footsteps of people walking by causes disturbance. 3D scanning on shaky floor can yield inaccurate 3D scanning results. If you can set up a separate room for 3D scanning that would be the ideal situation. If you don't have the luxury to do so, make sure to inform others around you to not walk near you during the scanning process.
Provide Support for the Target Object
The best way to sure the target object isn't moving is to provide a solid support surface for the object to rest on when 3D scanning. The table should be sturdy and big enough to properly support the part. If the object is oddly shaped that doesn't sit on the table by itself, use dark color putty or fixture to hold object down. You can also use this method for scanning objects with difficult to reach angles.
Control the Lighting Conditions
Intense or bright lighting will cause noise in 3D scans. It would be good to have a room where you can switch off all or part of the lights during the scanning process. In general, office lighting is fine but direct sunlight should be avoided.
Do you have any challenges with setup you would like to share? Please post in the comments section.
---
This blog post was previously posted on Thu, Jan 13, 2011 on 3D3 Solutions blog. LMI Technologies acquired 3D3 Solutions on May 1, 2013.
Posted by Thomas Tong