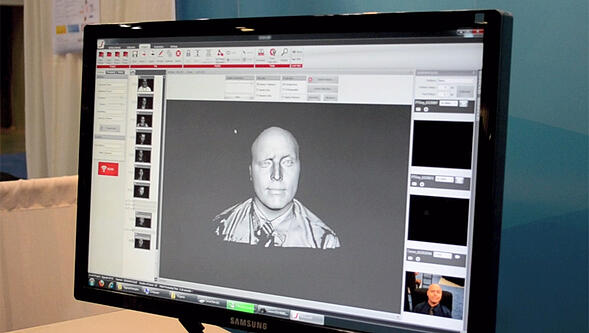 Last week, our team exhibited at Vancouver Siggraph 2011, a conference and exhibition that featured cutting-edge products and services for computer graphics and interactive techniques. The exhibition lasted for three days. Our team offered attendees free 3D face scans in under two seconds. We were very happy that approximately 600 people came to our booth to get a 3D face scan!
We featured the HDI Advance R2 3D Scanner at our booth. Our 3D scanning technology is a fantastic solution for 3D modelers and visual effects studios who are looking to accelerate their content creation pipeline. Our 3D scanners can create an accurate 3D scan from a real world object such as faces, people and objects in under two seconds. During Siggraph, we were featured in
Engadget:
Visualized: 3D3 Solutions scans our face in two seconds flat
For those who didn't get a chance to come to our booth, here is a video that demonstrates the face scanning process:
We had a great time. We look forward to return for next year's Siggraph in LA!
---
This blog post was previously posted on Wed, Aug 17, 2011 on 3D3 Solutions blog. LMI Technologies acquired 3D3 Solutions on May 1, 2013.
Posted by Pauline Tang