When looking to purchase an inspection solution for quality control, there are many options and factors to consider. In terms of 3D inspection, solutions can range from various combinations of 3D components where all the parts are purchased separately and assembled by the user, to 3D smart sensors that come in all-in-one pre-calibrated packages, as illustrated below.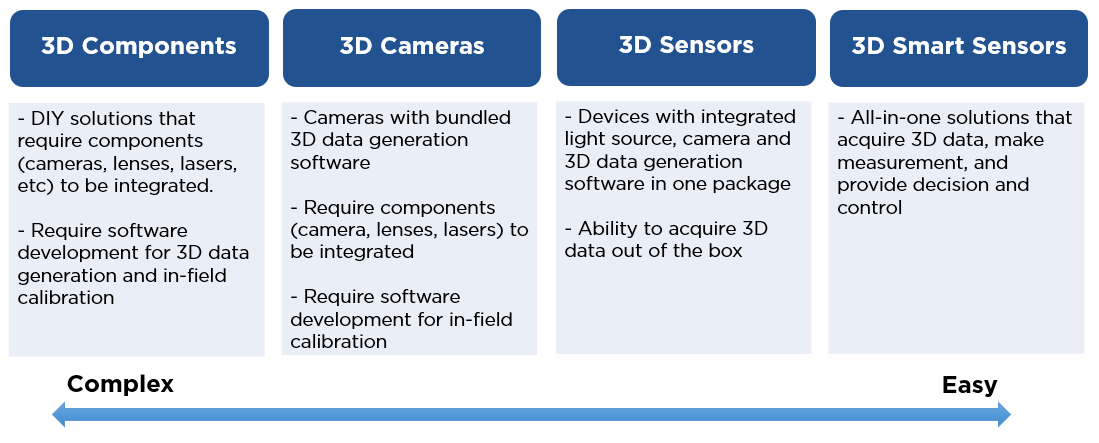 When evaluating options, it is important to understand the total cost of ownership associated with each solution. Total cost of ownership refers to the purchase price of the solution including any direct and indirect costs associated with selecting this option.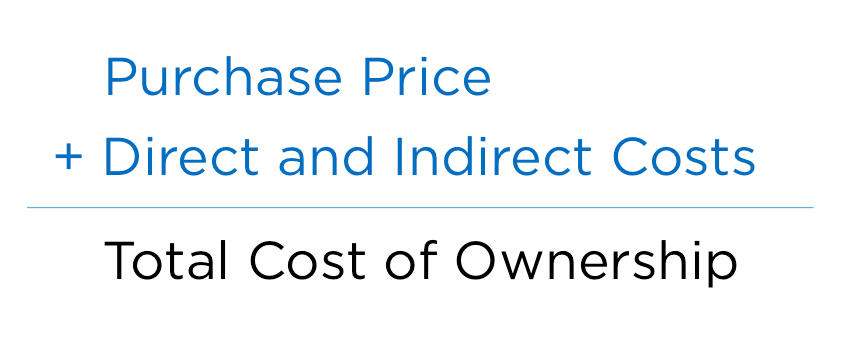 When looking at various options in a purchasing decision, don't simply judge the cost of a solution purely by looking at the purchase price. All factors need to be considered when making the final purchase decision. When looking purely at the purchase price, a relatively inexpensive solution might appear as an attractive option at the outset compared to an expensive alternative. However, if the option with a less expensive price tag contains hidden costs that make this option more expensive when all things are considered, then suddenly the latter option appears to be the more desirable option.
For an inspection system, some hidden costs are not taken into consideration when making the final purchase decision. Let's examine some factors to consider when looking at purchasing an inspection system.


Additional Components
When purchasing an inspection device for quality control, additional components might need to be purchased separately in order to get the system up and running. If each inspection device requires additional components, additional costs can add up quickly when a number of them are being implemented into a facility. There are three hardware components that need special consideration.
1. Processing Unit: When consulting with your vendor, ask whether the inspection device needs a separate processing unit such as a computer to process the data that it acquires in order to make measurement and control decisions (sorting, pass/fail, alerts). Some inspection devices, such as 3D smart sensors, include measurement and control capabilities while others require a computer for processing.
2. Hardware Module: The inspection device needs to be able to relay the data it captures to the facility's control system such as a PLC (Programmable Logic Controller). Different PLCs use different languages (Modbus TCP, EtherNet/IP™, custom ASCII strings) so it is important to make sure that the inspection device has the right connectivity option to communicate with it. 3D smart sensors can interface directly to PLCs using Ethernet, digital, analog, and/or serial output. If the inspection device is not capable of communicating directly with the PLC, a hardware module will need to be purchased. A hardware module is a device that acts as the translator between the two systems.
3. Cables: Cabling is a subject that might be easily overlooked but it is critical in the process of implementing an inspection system. Simple cabling is often best for inputs, outputs, and power. If an inspection solution requires a complicated setup of cables it can lead to unstable connections and requires more maintenance during the system's life cycle due to additional componentry.

Software Development
The next factor to consider is whether the solution requires additional software development to integrate the inspection system into a production facility. There are three areas of software development:
Acquisition:

Acquiring data from the physical part

Measurement:

Taking the acquired data, computing a measurement, and deciding if the part is good or bad

Output:

Taking the measurement and communicate it to the PLC to trigger an action
Software development effort depends on the scope and requirements of your inspection solution. There are inspection devices such as 3D smart sensors that are capable of doing acquisition, measurement, and output all within the device. The only software development required is to program the PLC to react to the decision. There are 3D sensors that offer development software separately from the device for an additional cost. If the solution is component-based, a considerable amount of work is required for software development to ensure the components work together to perform these set of tasks.
These three areas of software development often require resources with different skillsets. If you don't have the internal resources to develop software in-house, you will need to hire a system integrator to develop it. This would be an extra cost to consider.


Calibration
Calibration is very important part of the setup process because if it is done incorrectly, the inspection device can provide inaccurate and unreliable data that can lead to poor quality control decisions. When assessing various options, it is important to determine if the inspection device is factory calibrated. When an inspection device is factory calibrated it means that during the manufacturing process the device is calibrated with certified equipment to ensure scan data is accurate, reliable, and repeatable. There are inspection devices that are factory calibrated and there are those where customers need to calibrate the devices themselves. Calibrating a device is a labor-intensive process and requires a high level of precision. If your staff have to manually calibrate each device during setup, it can become an extremely time consuming process.

Downtime for installation
Downtime to install an inspection system into an existing production facility will impact manufacturing, which in turn impacts revenue. The most ideal situation is to purchase a solution that can be easily integrated into your existing facility so the operation can have minimal disruptions.

Maintenance
If the inspection solution has fewer components, it is often easier to troubleshoot problems when the system is not working properly. On the other hand, if the inspection solution is complex with many hardware components involved, checking each piece of equipment to determine which one is causing the problem can be a daunting task. Similarly, if a system often breaks down and requires a lot of maintenance and repairs over time, it can become an expensive option, one that involves downtime and repair costs.

Total Cost of Ownership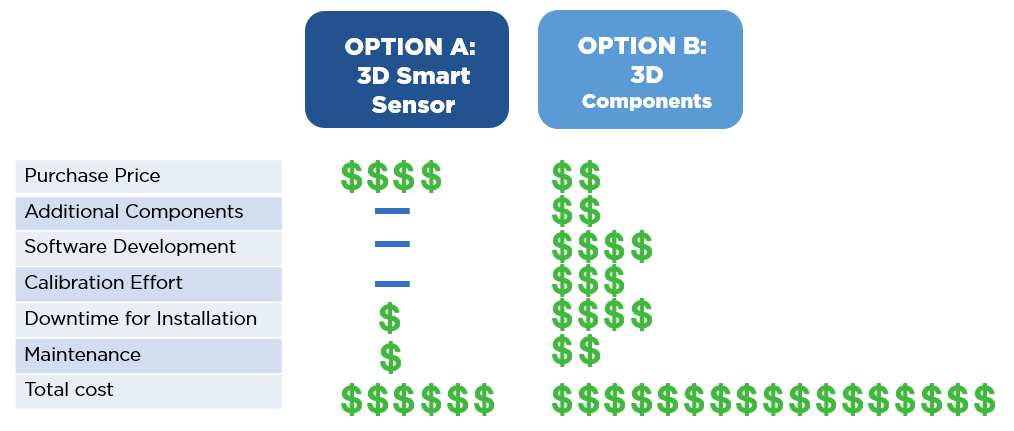 These are some of the factors to consider when assessing the total cost of a 3D inspection system. For example, when looking at the purchase price in the illustration above, an all-in-one solution like Option A might seem like a more expensive choice compared to a component-based solution like Option B. However, if we take the concept of total cost of ownership into account, Option A saves costs, frees up valuable time, and provides fewer headaches over its lifetime compared to Option B. Options need to be assessed carefully to ensure all costs are uncovered and that your decision pays off in the long run.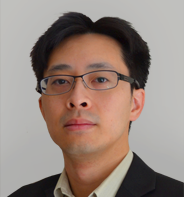 Chi Ho Ng is responsible for guiding new product strategy and working with strategic partners to develop new market opportunities at LMI. He also oversees the application engineering group, establishing processes and nurturing a customer-centric culture.
Posted by Chi Ho Ng