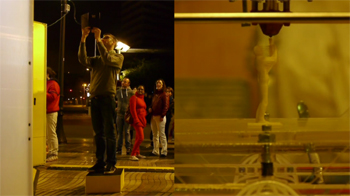 Be Your Own Souvenir is an interesting art project that connected tourists, neighbors of La Rambla and citizens of Barcelona to Arts and Science in January 2011. As pedestrians posed as human statues, the 3D scanner (comprised of three XBox Kinect) generated point clouds in real time. A 3D printer produced these poses into small 3D figurines that became souvenirs for participants to take home.
For the video demonstration and more information on the project please visit: Be Your Own Souvenir
As a side note, it's interesting to see that Microsoft is now embracing hackers who use XBox Kinect other than its intended purposes. Microsoft had announced that they will be releasing an official Software Development Kit for Kinect this year. For more information, please visit geek.com.
---
This blog post was previously posted on Fri, Apr 29, 2011 on 3D3 Solutions blog. LMI Technologies acquired 3D3 Solutions on May 1, 2013.
Posted by Thomas Tong