This past May, LMI participated in the Control 2014 trade fair in Stuttgart, Germany. It was great to connect with so many interesting people and learn about their successes and challenges when implementing quality assurance programs into their own facilities. We were thrilled to feature our latest structured-light products and demonstrated how we can help improve the quality control process.
Automating the 3D Scanning Process with Multi-Scanner Setup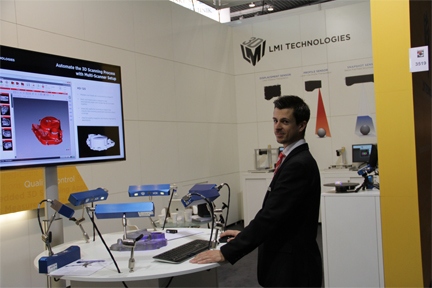 One of the featured demonstrations in our booth was the HDI 120 3D scanner. The HDI 120 is the smallest advanced 3D scanning system using blue LED projection technology. The scanner is an ideal 3D scanning solution for OEM, embedded or factory automation applications for quality inspection and reverse engineering.
Typically when scanning an object using a single scanner, the user would have to scan the object on all sides by moving the object manually before aligning and merging the data together into a digital 3D model. This can become a time consuming process. One of the ways to automate the 3D scanning process is to configure a multi-scanner setup. In our demonstration at Control, we connected six HDI 120 3D scanners to a single PC. Each scanner scans in sequence from a different direction so users do not need to move the scan target. The scan data captured from all the scanners is automatically aligned and merged using the 3D scanning software, FlexScan3D, installed on a single PC to create a digital 3D model in 360 degrees.
The diagram below illustrates how the multi-scanner setup is an automated processs. It scans in sequence starting with scanner 1 and makes its way through to scanner 6. Each scanner scans a portion of the part so the user does not have to manually move the part, thus reducing the overall scanning time. The scan data is automatically aligned and merged to create a digital 3D model.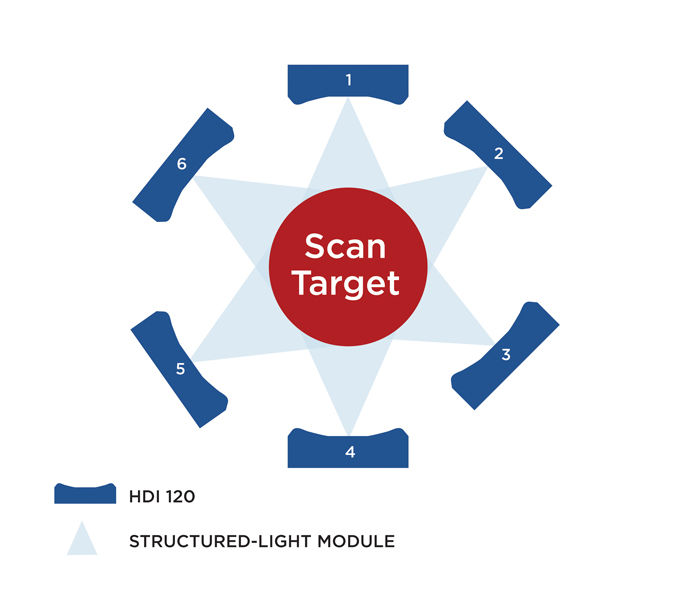 Using a multi-scanner setup is especially useful for applications that require fast scan speed and maximizes object coverage by increasing the field of view with the use of multiple scanners.
In the video, Len Chamberlain, Director of Sales at LMI Technologies, further explains the benefits of using multiple scanners for 3D scanning and inspection applications.
3D Measurement and Control in One Simple Package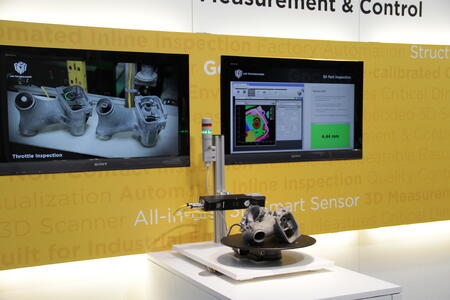 We also demonstrated the industry's first all-in-one 3D smart snapshot sensor. Gocator 3110 is a simple inspection system that makes measurements of multiple features in just one scan, but at a higher level of simplicity than standard industry solutions. The sensor has the ability to quickly acquire high resolution, full field scans for inspection of multiple part features with full 3D visualization. What makes the sensor "smart" is its ability to make 3D measurement and control decisions (sorting, pass/fail, alerts) all within a single pre-calibrated device. This enables easier, economical, and successful deployment of inspection solutions in the manufacturing process.
This simple demonstration below shows how the Gocator 3D smart snapshot sensor is an all-in-one 3D inspection system.
Next year, Control will once again take place in Stuttgart, Germany from May 5-8. It is an annual trade fair for decision makers interested in implementing measuring technology, material testing, analysis apparatus, optoelectronics, and quality assurance systems into their company's operations. The show welcomes more than 25,000 visitors from 89 countries every year.
Posted by Len Chamberlain