We are pleased to announce our participation at the following conferences this year where we will be featuring live demonstrations of our new 3D scanning products.



Siggraph 2012
International Conference on Computer Graphics and Interactive Techniques
Los Angeles, CA, USA
Los Angeles Convention Center
Exhibition: August 7-9, 2012
Booth 1114
Siggraph is the year's largest, most comprehensive exhibition of products and services for the computer graphics and interactive techniques marketplace. It is a great place to learn about the newest hardware systems, software tools, and creative services in the computer graphics industry.




IMTS 2012
International Manufacturing Technology Show
Chicago, IL, USA
McCormick Place
September 10-15, 2012
Booth: E-4665
Pavilion: IANA

The International Manufacturing Technology Show is one of the largest industrial trade shows in the world where visitors attend to get ideas and find solutions to their manufacturing problems. Topics include Materials, Manufacturing Technology, Alternative Manufacturing Processes, Quality/Metrology and Plant Operations. 3D3 Solutions will be represented at the show by our distributor Khan Consultants where they will demonstrate our latest 3D scanning solution for the manufacturing industry.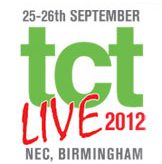 TCT Live
The Event for Product Development & Additive Manufacturing in Europe
Birmingham, UK
NEC
September 25-26, 2012
Hall 3A, Booth U23
TCT Live is the event for everyone involved in the concept, design, specification and manufacturing process. It is the event to learn about the latest in Additive Manufacturing, 3D Printing and other cutting edge product development software and technology. 3D3 Solutions will be participating at the event with our United Kingdom distributor, Mech Innovation Limited.

Our team would love to meet you at one of these events! Hope to see you there :-)
---
This blog post was previously posted on Thu, Jul 5, 2012 on 3D3 Solutions blog. LMI Technologies acquired 3D3 Solutions on May 1, 2013. 3D3 Solutions website will be redirected to LMI Technologies website.

Posted by Pauline Tang