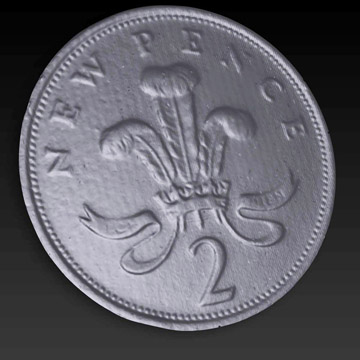 With 3D scanning, every project has its challenges. In particular, 3D scanning small objects (ie. coins, keys or jewellery) is one of the more difficult projects to tackle since every mistake is amplified due to the object size. The tips we offer below cover setting up the 3D scanner and common issues while 3D scanning small objects.
Use a small calibration board
Make sure the 3D scanner is configured for a small field of view. You will need a 5mm or 10mm calibration board to calibrate the scanner for smaller fields of view. For example, with a smaller custom calibration board the HDI 3D Scanner can scan an object as small as 13cm diagonal.
Use the right hardware equipment
For small field of view, you will require higher focal length lenses (25mm) and a projector that can create a focus image that matches your desired field of view.
Eliminate external factors that affect 3D scanning results
In our past blog post, 3D Scanning in Everyday Environments, we mentioned the importance of having a stable 3D scanning environment. This is even more important for small objects. When 3D scanning small object, the vibration levels are magnified compared to scanning larger objects. 3D scanning on shaky floor can yield inaccurate 3D scanning results. We suggest setting the 3D scanner on sturdy solid floor.
Also make sure the scanning object is set on a rock solid table. To hold your calibration board and scanning object securely, consider using a stable fixture to clamp them down. It will be easier to move the object around during scanning.
Filter out bad data outside the depth of field
The 3D scanner will have a very narrow depth of field when 3D scanning a small object. This means that you will normally get a lot of data that is out of focus from the cameras' perspective. The out of focus part of the image will return data that is distorted. Make use of the z-near and z-far filters to eliminate this data.
Avoid spraying or painting the object if possible
For small objects, even 10-20 micron thickness sprays or paints will change the shape of the object significantly. Prevent spraying or painting as this generate 3D scans that have better accuracy.
Be patient ;-)
3D scanning a small object is much more frustrating than normal sized objects since they're hard to hold and manipulate. It's easy to ruin a 3D scan by rushing or going too fast.
We hope these tips are useful and happy scanning!
---
This blog post was previously posted on Fri, Sep 16, 2011 on 3D3 Solutions blog. LMI Technologies acquired 3D3 Solutions on May 1, 2013.
Posted by Thomas Tong