For most projects, 3D scanning is the first part of the project which involves creating a physical object into a digital 3D model. To create a full 3D model that includes all sides of an object, the 3D scanner must first capture 3D scans of an object from several directions. Capturing 3D scans from all sides involves taking a scan from one side, turning the object, and taking a 3D scan from another side.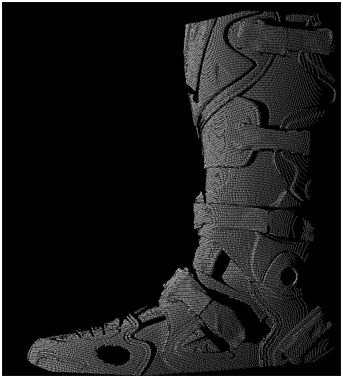 PHOTO: A single 3D scan of a boot. You will need to take several scans from all sides in order to create a full 3D model.
Once all the pieces are captured, the next step is to merge them together to form a 3D model. You can merge the scans directly in 3D scanner software such as FlexScan3D. For more complex post-processing operations, we recommend using advanced post-processing software such as Geomagic or Leios. The process of acquiring 3D scans and later merging and aligning them to create a polygon mesh involves time and practice.

VIDEO: A full 3D model of the boot after the several 3D scans are aligned and merged. This 3D model includes color texture. Normally, 3D scanners capture 3D scans of an object in black and white. For more information on color texture capture, please visit: Capturing Color and Texture of an Object in 3D Scanning
Our team usually recommends taking at least taking eight 3D scans to create a full 360° view of an object. Depending on the complexity of the object, more 3D scans might be required. This process takes time and is considered a manual approach to achieve a full 3D model using 3D scans. There are other options that can speed up the process.
Option 1: Using a Rotary Table System
The rotary table system automates the process of performing multiple scans of an object and automatically aligns and merges the 3D scans together to form a 360° model. This accessory works with the 3D scanner to reduce 3D scanning and processing time. The rotary table system usually has a size and weight restriction on the object it can scan. It is important know what these restrictions are to determine if a rotary table system is suitable for your application.
VIDEO: Example of a rotary table system that is compatible with the HDI 3D Scanner.

Option 2: Multi-head 3D Scanning
Another way to automate the process of 3D scanning is to use a 3D scanner that has multiple scan heads. Each scan head takes 3D scans in a different direction so the user does not need to move the object/subject. This configuration is good for controlling multiple scan heads connected to a single PC to maximize object coverage. It is especially useful for scanning an object/subject that requires a fast scanning speed such as scanning the human body. This option is more expensive and has a more complex setup.
PHOTO: A diagram of a 3D scanner that scans in multiple directions using four scan heads. Each scan head scans one at a time and automatically aligns and merges the scanner data once the scanning is complete.
In summary, automating the process of 3D scanning reduces scanning and processing time. Budget is also a factor to consider as faster scanning speed is associated with additional costs. We find that users are often fine with the manual approach to 3D scanning. However, if reducing the scan and processing time is important, users might want to consider the suggested options.
Do you have any questions or comments on automated 3D scanning? Please post in the comments section.
---
This blog post was previously posted on Mon, Jan 23, 2012 on 3D3 Solutions blog. LMI Technologies acquired 3D3 Solutions on May 1, 2013.
Posted by Thomas Tong